What is YourBuild?
YourBuild computers from Liberteks are custom designed machines built with exactly your needs in mind, without the additional expenses typically associated with getting something custom-built for you. The biggest difference for you is that you will get a machine that does everything you want it to do right out of the box, without paying for extra bells and whistles that you will never use. At the same time, you won't get a system that doesn't live up to expectations or leaves you saying, "I wish it could do this."
---
I called Liberteks with my latest computer problem. Everyone should know how wonderful these people are! They are not only knowledgeable about technology, but they are also informed about a portion of the computing public: us newbies. I am a college graduate in my fifties embarking on a new field of study, which is heavily dependent on technology (let's just say I'm at the beginning of the learning curve). Their sales rep very respectfully explained some pretty basic things to me -- he was very patient. It was a pleasure to deal with this company, which clearly understands the importance of the personal touch!
-Lani Wright
---
Why would a YourBuild computer be right for me?
Review these questions to decide:
Do you have specific business applications that you need to run?
Do you travel a lot?
Do you use your computer for presentations?
Do you know which version of Microsoft Office includes the programs you need?
Do you know which version of Microsoft Windows you need and why?
Do you know what level of computing power is necessary to perform all of your desired tasks smoothly and efficiently?
Do you have a desired lifespan of your computer and do you know how to achieve that lifespan?
These are the types of questions we ask every person who comes to our store and is interested in a new computer.
Only then will we recommend a computer for you, because it is important to us for you to be happy with your investment not just tomorrow, but long after the sale has been made. With over 7,000 computers built for the Capital District and over 18 years in business, you can count on us to have the accurate, honest knowledge and advice that you need before the sale, as well as being there for support and assistance once you have made your purchase. Give us a call or stop in our store to find out the difference computer made just for you, a YourBuild system from Liberteks, can make. You'll find out why so many people keep coming back to us for all of their technology needs.
---
Don't just take our word for it!
"The setup is working great, I really appreciate the computer guidance!"
Thanks,
Lowell Knapp,
Our Towne Publisher
"Hey, Larry - wanted you to know I'm a happy computer camper, and will definitely be seeing you for my next upgrade in a year or so - it pays to hire pros!"
Thanks for the followup support,
Michael Bopp
"Many of the people in my organization utilize Larry and his firm to take care of their IT and computer needs. He is the best in the business, and I highly recommend his firm for their utmost professionalism."
Steve Clem, Director of Business Networking International
6 Reasons LIBERTEKS is Better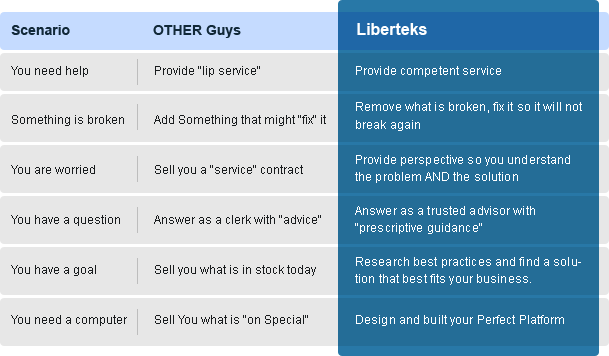 | Scenario | OTHER Guys | Liberteks |
| --- | --- | --- |
| You need help | Provide "lip service" | Provide competent service |
| Something is broken | Add Something that might "fix" it | Removewhat is broken, fix it so itwill not break again |
| You are worried | Sell you a "service" contract | Provide perspective so you understand the problem AND the solution |
| You have a question | Answer as a clerk with "advice" | Answer as a trusted advisor with "prescriptive guidance" |
| You have a goal | Sell you whatis in stock today | Research best practices and find a solution that best fits your business. |
| You need a computer | Sell You what is "on Special" | Design and built your Perfect Platform |