Please attend our upcoming Meet Up the "War for Talent"," featuring leading corporate and agency recruiters, which will be held Tuesday, Oct. 29 at 5:30 pm at Manfred Learning Center.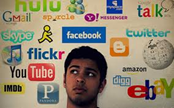 This event discusses the corporate search for talent that is becoming increasingly competitive for recruiting and retaining talented employees. It is expected to grow only more competitive into the future.
It's targeted toward job hunters, recruiters, employers, employees and everyone who wants to stay in touch with the latest in what's required in job skills now, and in the near future.
Participants will include Steve LaPoint of Rapid Application Developers, a IT placement firm, Chris Wessell of Pinnacle Recruiting & Staffing, Deb Misetich, chief recruiter at Nfrastructure and Larry Zimbler of Liberteks as moderator.
The "War for Talent" event will be held at the Manfred Learning Center at 920 Albany Shaker Rd. in Latham, and will include members of the Albany Social Media for Business, Tech Valley New Tech, Capital Region Business Council Meet Up groups, totally over 500 members.
Please contact Liberteks at 452-0550x-1 for more information, or to register.
This link provides some good information on this topic, "War for Talent."
Tags: engineering jobs, IT jobs, tech recruiters, technology jobs