Often clients ask what is the best role of marketing their idea or
message now?
How is marketing different today than say 5-10 years ago?
They are seeing day to day success of other industries, and their
industry peers. And want that same marketing success as part of their
day.
Technology delivers that for successful Enterprise leaders [Google,
Apple, Samsung, Starbucks, Amazon], how can they leverage the mobile
social economy to create new customers and retain their old as well.
I argue marketing has one overriding role in our social, mobile,
24/7/365, twitter infused world. To convert sucking scenarios to new
opportunities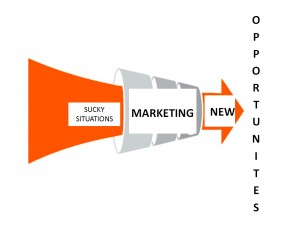 What's your marketing engine?